Whether you live in Mexico part time or full time, or are just on 5-day trip here, or are planning on visiting your home country or any other country outside of Mexico, we have a medical insurance option to
All of these come with the guarantee of having your policy issued through some of the best Mexican and International insurance companies at the level of quality that will satisfy and fulfill your needs and expectations. What benefits can you get through our insurance companies?
Click on the option below that best satisfies your needs:

If you want a full health insurance policy in Mexico, with national and/or international coverage and direct payment, we have multiple options with some of the best insurance companies throughout the world, and prices much lower than those from your home country.

If you are traveling to or from Mexico, we have a variety of plans to cover you against any unforeseen event or situation. Direct payment and assistance in your own language are only some of the benefits offered by our companies.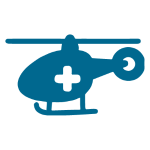 If you have a health or travel insurance policy to cover your hospitalization, and are looking for the perfect complement to fly you home and continue your reatment there, then this is exactly what you need.